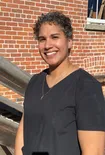 Elvira has been in the dental field since 2002 covering various positions from Dental Assistant, to Patient Coordinator, Office Manager and Dental Assistant Instructor.
She loves teaching people about the dental field, and is trained in expanded functions.
In her free time, she is always spending time with her family and pets.